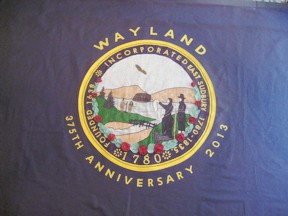 The new Wayland flag was dedicated and presented to the State House on Thursday, June 18, 2015, at 11:30 am.
Participating in the ceremony were Carmine Gentile and Alice Peisch, state representatives for Wayland; Richard Ross, state senator; Cherry Karlson, representing the Board of Selectmen; Betsy Athan and Penny Beer, makers of the flag; and Mary Antes, chair of the 375th committee under whose auspices the flag was designed and created.
Ms. Karlson accepted the flag on behalf of the town and then presented it to the Wayland legislators. It will be installed in the Hall of Flags at the State House.